Neal J. Lerner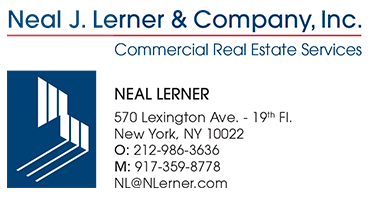 Neal J. Lerner & Company, Inc. is a New York-based commercial real estate services firm that specializes in tenant representation. Founded in 1999, the firm adopted a conflict-free business model of representing only tenants for their commercial real estate transactions.
Neal also owns and operates an online real estate company: LookingForSpace.com, which is a full service marketing and brokerage website that enables Law Firms & Professionals to market surplus offices for sublease to Attorneys or others. The service operates on a national basis in all major U.S. cities.
The website helps qualified advertisers promote office space on their own and it also offers the marketing assistance of a real estate professional as an option. It serves both the community of professional office space occupiers who seek to rent individual offices in shared space. It also assists larger Law firms and Legal practices that have extra offices available for sublease.
The site segments office space listings by professional category and offers small and solo office tenants a suite of tools that enables them to sublease individual offices on their own.
Neal has been involved in the technical aspects of online marketing since the inception of internet advertising. LookingForSpace.com is the expression of that experience combined with Neal's brokerage expertise and his understanding of the small and solo CRE marketplace.
Tenant representation affords Neal J. Lerner a unique perspective that is dedicated on the tenant's occupancy issues and the pursuit of the best available real estate solutions. The focus is exclusively office brokerage - primarily helping small firms obtain the same representation that larger firms have available. LookingForSpace was founded to offer professional services to the small office / shared office market which previously lacked any real opportunities for professional representation.
The firm has been involved in almost 1 million square feet of tenant representation assignments. We are pleased to offer a full complement of commercial real estate services to our clients that include:
Inspection Tours
Site Selection
RFP Development
Comparative Financial Analysis
Lease Negotiation
SELECT CLIENTS:

Scholastic, Inc.
Over a 12 year exclusive relationship, Neal J. Lerner managed all of the strategic real estate requirements for Scholastic Inc., a large education publishing company, including the acquisition of office premises, financial analysis of potential opportunities, and lease negotiations which resulted in the development of Scholastic Inc.'s Soho Campus encompassing over 550,000 square feet of office and retail space. The occupancy structures for Scholastic included a combination of triple-net leases, direct leases, subleases and purchase and sale agreements.

Other representative clients include:
Ruder Finn, Inc | Public Relations | 60,000 square feet
Ladas & Parry LLP | Law Firm | 55,000 square feet
Fleishman Hillard Inc. | Public Relations | 38,000 square feet
Saul Ewing LLP | Law Firm
Obermayer…LLP | Law Firm
Tressler LLP | Law Firm
Morvillo Abramowitz | Law Firm
Montgomery McCracken | Law Firm
Muscular Dystrophy Association | Non-Profit Organization
Fitflop USA | Retail Services (Office Space)
Willow Tree Credit | Financial Services
Brain Reserve | Future Trend Marketing Agency
Bliss Spa | Health Services (Office & Retail)
Slim Fast | Data Services Division
Zenith Media Services (a Publicis company) | Media Services
Clark's Shoes | Retail Services (Office Space)
Steve Madden | Retail Services (Office Space)