Extra office space can be a burden on your law firm's bottom line - and we can help you sublease extra offices within your space to other attorneys. Convert the burden to a "shared law office space" and turn a negative into a positive.
The first step in the process is to verify that your office space lease will permit you to sublease law offices directly to other attorneys. Many well negotiated law firm leases will specify that a firm can sublet law offices to other licensed, practicing attorneys without the landlord's prior consent. Often this will require notice to the landlord but the occupancy by another attorney who is licensed and in good standing will not require prior approval by the landlord. This makes it much easier to sublease law offices (sublet) when you wish - and to whom you decide would be the best candidate(s) to share your office space and amenities with.
Whether you sublease law offices by owner or license by owner, the process lets you remain in control of who rents space in your premises as well as the administration of rules and regulations that suit your workplace style. A great benefit of sharing legal office space with other attorneys is that you can also share work - and forming a symbiotic relationship with other law firms in divergent practice areas can be a real force multiplier in terms of growing your business to service areas that are outside of your specific practice specialty.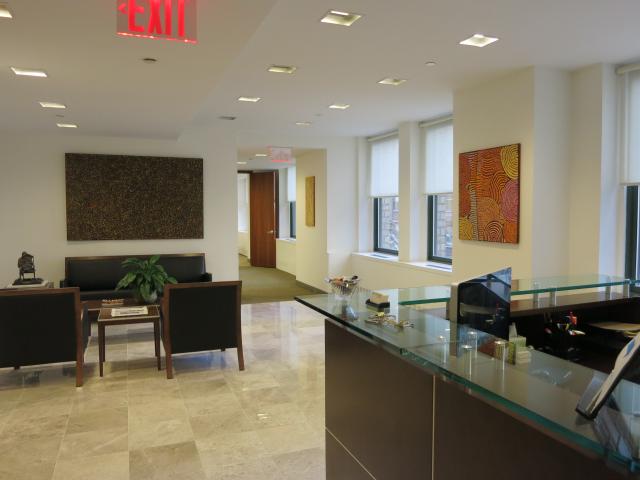 A good example would be for legal principals who want to sublease law offices, where the attorney that controls the space has purposely rented more space than required by his firm with the specific intention of renting a certain number of offices to other attorneys who will maintain their own separate practices within the "host's" office space.
If your firm wants to sublease law offices directly from the "owner" or sublessor (or alternately the licensor) you can look for new office space on our website for attorneys and small law firms looking for law offices available for sublease directly from the "owner" in the premises of law firms with extra space.
If you want to share law offices with another small law firm or solo practitioner we manage a service at Looking For Space that can help you reach out directly to other attorneys who want to share legal offices with another firm. If you want to make direct principal to principal contact you can advertise your extra offices on our website "for sublease by owner", and you will receive the inquiries from principals on a direct basis by email or phone that will allow you to sublease law offices to other principals you have vetted, met with, and determined that they would be a good fit to sublease a law office (or offices) within the premises of your law firm. In addition to subleases in Grand Central, we offer listings for legal offices for sublet in major cities throughout the U.S. For a few examples of the current available listings on the looking for space website, you might be interested in viewing:
In addition to shared legal office space, our website offers principals the opportunity sublease private legal office space (commercial office space by the square foot) directly to another law firm looking for new legal office space available for sublease. In the same fashion that you would add your listing to our website for shared law office space you can add a listing designated as "private office space" that encompasses any size office space your firm has to offer for sublease. This section of the website is searchable by geographic location as well as size - and most importantly the listings are always designated as specifically for law firms. This will insure that when you have a space that has been purpose built for law firm use, you will attract the most logical online audience which would be other law firms looking for space. If you want to list a private (separately demised or not) law office availability please call us at 212.986.9100 and we'll get your listing online, with any collateral material that is appropriate to renting the space to other attorneys. This service can be used by landlords with "direct" space for law firms as well as brokers representing law firms with office space for sublease - and we operate on a National basis.
Note: since we curate office space that is built in a fashion that is suitable and efficient for law firm use, we will on occasion introduce an opportunity to rent such spaces on a direct basis from the landlord. In the case of space we have selected as having ideal characteristics for law firm use, the contact information on the listing will be for LookingForSpace.com, so you can speak to one of our office space marketing professionals about the availability. Note that in cases like this we seek to represent you as a tenant representative broker to show you the space and negotiate the terms and conditions of a direct lease for your firm directly with the landlord - as your broker. If you already have a broker representing you on an exclusive basis, feel free to have them contact us as well and you can add your listing with your broker's contact information. Full disclosure - your broker must have an office in New York. We charge 20% of commission earned and paid, as a "finders fee". Alternately we can promote the space for you with LookingForSpace.com as the contact entity. In these cases we charge 50% of a standard commission upon success, and we share the commission equally with your broker (25% / 25%). We always work according to your broker's published commission schedule (but again, not to be repetitive, in the case of firms that have already engaged their own broker, your broker must have a location on the ground somewhere in New York for us to be able to perform this co-broker service for your firm.
Our website is simple to use and very effective at helping you source viable subtenants for legal office space that you wish to dispose of. We see offerings of space offered for sublease or license and the common thread that runs through all of the listings site wide is that they represent principals who are looking to rent offices (or private space) to other principals. On some occasions the advertiser has requested that a representative from LookingForSpace.com takes the initial inquiry and provides the initial information and sets up the first appointment. After that information and scheduling call you'll be on your own dealing directly with the advertiser - and if you have any questions or if any issues arise we are always available in our New York office to answer questions, or help you with any creative or technical issues you have with your listing. Yes, we'll even write the listing for you if you take about 10 minutes to let us interview you and review your photographs of the available space.

So in conclusion, we are a focal point for lawyers looking for space for sublease by owner for their law offices. We put firms with extra offices in contact with small and solo's as well as larger firms seeking a satellite office in your City. And whether you're a solo or a 100 attorney firm, we'll treat you well and help you rent shared legal office space online.
Here are a few tips for the "buy" side of the equation when you want to sublease law offices in another firm:
In determining the total monthly rent you need to know what services and equipment are included in the rent and which are optional and extra - in addition to the rent. Clarify the following:

Is conference room use included?
Is the phone system included?
Is high speed internet included?
Is there a full time receptionist?
If the phones are included do you pay tolls? Does the receptionist answer phones in your name?
Do you have access to Copy/Scan/Fax machine(s)? Are there additional fees associated with this or are a certain number of pages included per month?
Is there any external file storage space outside of your office(s)
Are any part time paralegal or secretarial services available within the suite?
Is there a shared kitchen or pantry? Is it stocked with coffee / water / snacks? Are there additional
charges associated with kitchen use?
Is signage available on the front door and/or in the reception area of the space. Most important, verify that
the name of your firm will be part of the downstairs lobby directory in the building.
Is daily office cleaning and trash removal included?
Are there any "escalations" that you will be billed for on a proportionate basis? In many legal suites the increases in Real Estate Taxes and Common Area Charges and Electricity bills are apportioned among the tenants renting space from the "host". You should be aware of any additional charge categories you will be subject to and always ask to see the exact charges that were applied to your office or offices in the past 2 prior years.
Is the quoted rent "all inclusive"? i.e., in some cases all of the above items are included in a single monthly fee. In our opinion this is the most desirable method because the subtenant is always cognizant of what next month's total charge will be - and there are never any unknowns or surprises. It is also nice to have someone else manage all of those items so you can focus on the law and your practice and not spend any time whatsoever on the management of commercial real estate or an IT/Telephone infrastructure (as well as contracts and supplies for equipment.
Some legal suites have shared court services, and delivery service as well.
That is a pretty comprehensive list of amenities you can expect to find in a shared space. Make sure that when you are interviewing the sublessor (licensor) your inquiry covers as many of these items as possible because forewarned is forearmed! It is always better to know the facts!