6 Offices + 5 Cubes At 570 Lexington Avenue - Share Space With An IP Firm
Looking for law firm to share a fully outfitted legal office with an established IP firm, offering a serious, calm work environment. There are 6 available offices, one of which is a 22' Partner office. All of the offices have good light, facing East or North. There is a very nice reception and seating area immediately outside of a glass walled conference room which is windowed and has a conference table that seats 10.
The offices are fully furnished (except for the Partner office)...and they can be delivered with or without furnishings, as required by the subtenant. Most of the offices would be considered Sr. Associate or Jr. Partner size.
The space has been recently carpeted and painted and use of all equipment is available. The building has Spectrum fiber if the subtenant wants its own, dedicated service. Alternately, the VoiP phone system and wired internet and Wi-Fi can be made available for the subtenant (extra). This is a sublease that is available January 1, or sooner, with a term running through May 31, 2020.
This is the floor plan of the entire space which is 7,200 sq. ft. The available offices are highlighted. The entrance is immediately off of the elevators on the 19th floor and a good signage opportunity is available on the front entrance doors to the suite. Basement file storage space is also available in a large locked cage (20" deep).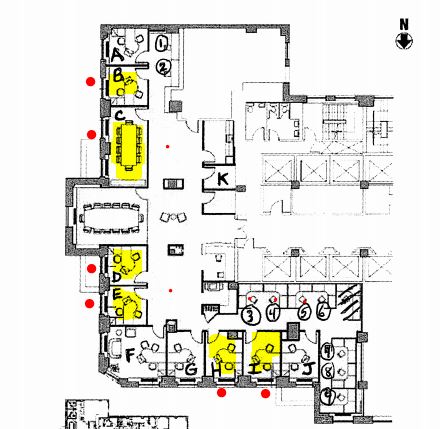 There are 2 large built in workstations outside of office C and offices D/E Additionally, workstations 3,4 and 5 are also available. You can see the whole listing with a photo slide show by Clicking Here.
A low traffic, professional practice is preferred. Brokers Protected - please bring your clients for a tour.
For further information or to arrange an inspection of the premises, please call Neal Lerner at (212) 986-9100 or Email Us