​Do Executive Suites Hurt Your Chances Of Renting Offices To Attorneys?
A common question we get concerns the number of executive suites or business suites that seem to be crowding the market as well as the vertical on Google and Bing, etc. Frequently we are asked if this affects a law firm's chances of renting offices to another attorney.
The short answer is "It could - unless you choose the correct venue to source inquiries about your offices".
This is because the majority of full time individual office users will gravitate towards legal office space or a legal office suite, before they will relocate to a general executive business center. Now, I won't say that we don't rent offices in Executive Centers to attorneys, because we do - however the bulk of the demand on our site seems to be aimed at offices offered for sublease in law firms for attorneys looking for shared legal office space with shared use of the conference room(s), reception, phone system, copy/scan/fax and kitchen.
In New York City and throughout the country in both major metropolitan areas and suburban locations, there has been a tremendous increase in the number of Executive Suites and CoWorking Centers, in the past 2 years. The increase in capacity has been monumental - in NYC alone, WeWork has, according to The Real Deal a year ago they were one of the largest lessees of office space in Manhattan. They currently lease in approximately 1.5 million square feet of office space in Manhattan - and they seem to be growing exponentially on a regular basis.
Many Executive Suites and CoWorking entities are well financed and have a deep pocketed advertising budget. Accordingly they spend oodles of cash on venues like Adwords, where words we paid $2.00 per click for just 2 years ago have been bid up to $20 - $25 per click. That's what happens when many similar firms crowd into a vertical market and start competing with each other.
The problem for law firms and other professional firms with extra offices is being able to advertise those offices in an effective manner when the field is so crowded and expensive. And we think that LookingForSpace.com is the perfect solution for law firms that want to step ahead of a lot of the "noise" on Google and Bing, and actually get found by attorneys looking for shared law office space online. In fact, if you google "share law office space" you'll get the first page of more than 19 million results with 4 paid ads at the top - and LOOKINGFORSPACE.com as the first natural search result on the page. This result indicates that our website is recognized by the search engines as a very reliable expert source of information about shared law office space and it validates our utility to law firms. If you want to rent extra offices to attorneys looking for space online, LookingForSpace.com can elevate your visibility and help your available offices get found in a very crowded and extremely competitive online space.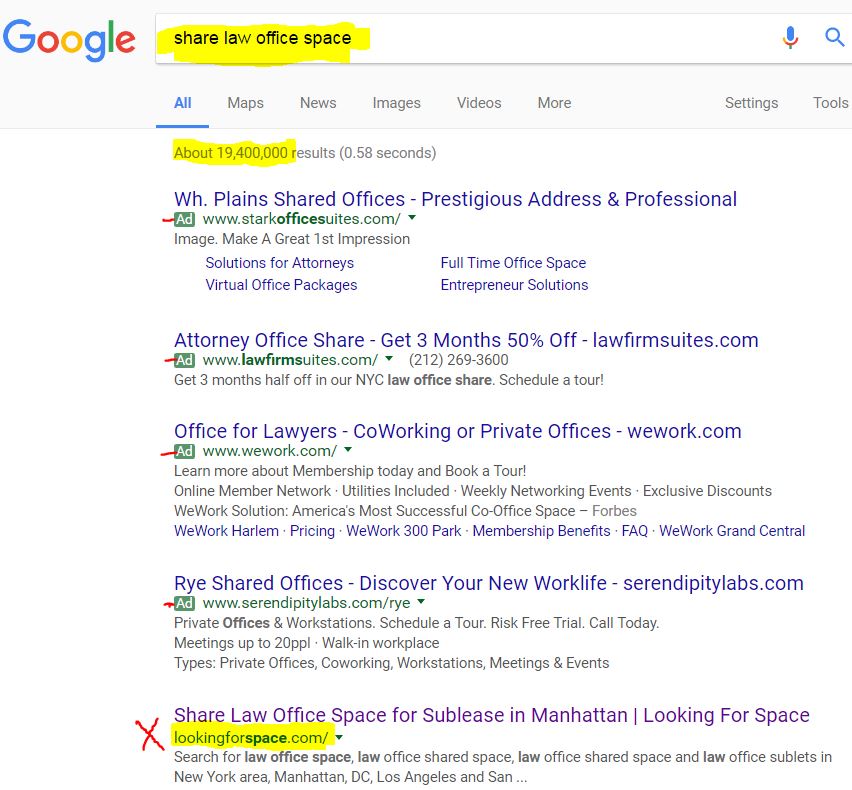 This is an extraordinary result and we are very proud to bring it to your attention. It means that rather than spending hundreds of dollars a day with an online pay per click advertising campaign you can spend much less money on a monthly advertisement on our website and get excellent natural search results that will increase the visibility of your available offices far beyond any (much more expensive) result you could achieve on your own.
Click one of the links below to add your listing in NYC, Chicago or LA. (You can list in many other major cities if you go to the website, choose the appropriate market, and click "ADD YOUR LISTING" in the navigation bar at the top of the page.
You can add a listing online, by yourself, and be up and running in 5 or 6 minutes. We've tried to make the process easy, but if you need any technical or creative assistance we offer it for Free over the phone. Just call us at (212) 986-9100. And, if you have any issues about adding online content yourself, we will add your listing in its entirety for you. Just email us the photos of your space and let us interview you for a few minutes so we can develop good content for your listing. And if your office is in New York City and you really want someone to hold your hand, we can offer you a Broker Assisted Listing, where we will do everything for you including photography of your space.
We are confident that we can help you rent extra offices in your law firm's space to attorneys or other appropriate professionals who are looking for new office space for their small or solo practice. In addition, we frequently place larger, out of town firms seeking a satellite office in Manhattan - so we're not limited to the small and solo category because we extend our service offering into the mid-size law firm category as well.
If you are looking for new offices it is always Free to view all of our listings and in addition go good descriptions and oodles of site photographs you'll also get the complete contact information you need to reach out to the party advertising the space. Deal with them principal to principal and if you need any help finding space, we're also here to help you.