Part Time Lawyer's Office - 178 sq ft - Grand Central
RENT A BEAUTIFUL OFFICE IN MIDTOWN MANHATTAN - 2 OR 3 DAYS PER WEEK
Here's a new kind of listing for us with an idea that we think will gain good traction. Part time offices where you get all of the benefits of a full time dedicated office in a part time dedicated office for 2 days or 3 days (or some combination thereof) per week.
This example is in a high end serviced legal suite at 555 Fifth Avenue (46th Street) proximate to Grand Central Station in the heart of Midtown Manhattan. The space has a beautiful reception area with a full time professional receptionist to meet and greet your visitors. The part time furnished office includes conference room use, telephone answering, beverages, and "white glove" treatment by an experienced legal management team.
This is a great opportunity for a semi retired or out of town attorney to have a full time business presence in Manhattan while paying a part time, fractional office rental. Here is what the office looks like: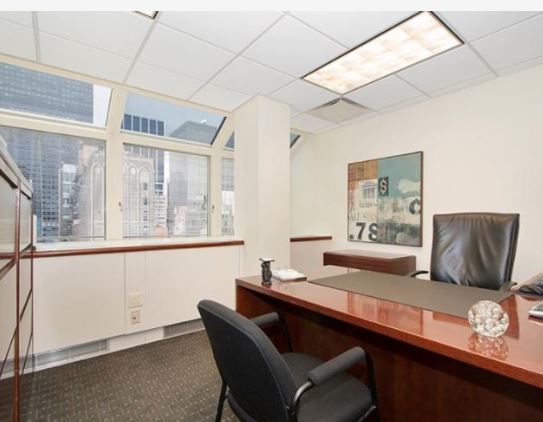 This is a novel structure for a traditional executive suite type business that caters specifically to attorneys and law firms. Their expertise is keeping attorneys satisfied with the services they provide on a daily basis and the beauty of this offering is that you can have someone else answer your phones, receive and send your mail, and manage all of the facilities and IT issues that seem to arise in an office on a daily basis.
You can have your cake and eat it too - especially if you are working from home a few days a week - or if you are out of town frequently.
Have all of the benefits of a full time office while only paying a fraction of what it would generally cost you to have an identity and a location in Midtown Manhattan - that is fully serviced! You don't need an office manager or secretary as well as equipment and phone contracts and all of the other potential management headaches that you lose when someone else manages the real estate platform you operate your practice on. These items all become someone else's problem while you have the luxurious opportunity of working from home (or a different location) and in the city, at a place that you can definitely call "My Office" and with a group of service oriented employees you will absolutely feel are part of "Your Team".
If you are considering part time occupancy, you don't need a "hot desk" at a business center. Rather, have your own dedicated office on occupancy terms that are favorable to you, where you can store personal belongings or files so you really feel "at home" on the days you occupy the space. We'll introduce you to the person that is taking the other "share" of your office and if your schedule has a change in it, perhaps you will be able to work it out with your counterpart.
If you are interested in Part Time Offices and you want to be part of a number of diverse legal practices in one suite, please call Neal Lerner (212) 986-9200, or Contact Us to arrange an inspection of the part time office space or to get more information about how you can integrate our fractional office program into your life.
FRACTIONAL OFFICE SPACE: an opportunity for legal professionals to rent part time offices in a law firm or legal suite with all of the benefits of a full time individual office rental at a FRACTION of the cost.